iFI-Audio's high-resolution vacuum tube component, iBasso's first hybrid custom IEM, etc.
For iFI-Audio products, the compact audio system "Stereo 50 Retro System" scheduled for release in early 2015 is on display for reference.
Stereo 50 Retro System
Consists of an integrated unit equipped with a USB DAC, Bluetooth receiver function, amplifier, etc., and a bookshelf type speaker. The planned price for the set is 280,000 yen. We plan to sell the main unit alone for 160,000 yen, and the speaker alone for 140,000 yen.
It is characterized by combining digital technology and vacuum tube analog technology. Equipped with USB input, USB DAC function supports DSD 512 (24.6 MHz), DSD 256 (11.2 MHz), PCM up to 768 kHz. It uses a Burr-Brown DAC chip. It can be connected not only to a PC, but also to an iPhone/iPad or an Android device via a USB-OTG cable.
In addition, it also has a coaxial/optical digital input that supports up to 192kHz and a Bluetooth receiver function that supports aptX/NFC. Equipped with two analog RCA/stereo mini inputs and Phono input for MM and MC. It uses the "iPhone" circuit, and you can set 4 gains and 6 EQ curves.
Viewed from above Main unit speaker can be placed horizontally Main unit Back of main unit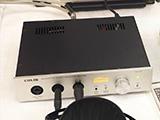 It also has a headphone amplifier. The standard headphone output is a maximum output of 8,000mW, compatible with power-hungry Audeze, Hifiman, Sennheiser HD800, etc. The output of the stereo mini is said to correspond to highly efficient headphones and custom earphones. It also has a "3D holographic function" that can be used with either earphones or speakers, and automatically switches when headphones are connected.
Vacuum tubes are used in the amplifier section. It consists of 4 EL84s and 2 ECF82s, and also uses an ALPS analog volume that can be operated remotely. The output is 25W.
The speaker is equipped with a 28mm diameter silk dome tweeter and a 115mm paper cone unit. It does not have a crossover network. The housing is made of bamboo. "Active Acoustic Tuning (AAT)" achieves "sound that draws the listener into the music".
The speaker does not have a network
Furthermore, at the iFI-Audio booth, the DSD 256 sound source "Rie fu/So-Re-Da-Ke", which is included in the "NetAudio #16" magazine, will be released on December 20. Scheduled "Anisong Audio" magazine supplementary sound source "I wanna go to a place..." (Gundam SEED DESTINY's ending theme self-covered for the first time in 9 years) can be listened to in advance.
The multi-track equipment used to record these two songs is also on display, and the playback sound is connected to the iFI equipment so that you can listen to it with headphones. In addition, you can listen to high-resolution songs of Techno Boys P.G. Normally, the 96kHz/24bit version is distributed on e-onkyo, but with the cooperation of Iwill's Junnosuke Sato producer, you can listen to the 32bit version for the first time.
Portable devices such as micro iDSD can also be listened to HiFiMan updates
In the JR-SOUND products in the top wing booth, the HPA-206 full-balanced headphone amplifier scheduled to be released in December is exhibited for reference. . It has one XLR balanced input and two RCA analog inputs, and one balanced and one unbalanced XLR/TRS combo output. The price is an open price, and the expected store price is around 250,000 yen. It consists of 4 fully-balanced circuits and 2 unbalanced circuits, and is equipped with a quadruple volume and a large transformer.